Start a blogging business in 7 easy steps
[Disclosure: this post may contain affiliate links, this means I get a commission if you decide to make a purchase through my links. This is at no cost to you. Please read my disclosure information for more details.]
Lately I've been hearing all sorts of conflicting statements. Either, blogs and niche sites are the way to go or blogging is dead. Which one to believe?
Truth is, you want to start a blog to either share your thoughts and ideas, help others and/or make money.
In this article I break down the steps to start a blog and a little beyond that. These will help you decide if you want to start a blogging business at all.
Do you want a hobby blog or a business?
This is the first thing you must ask yourself. Do you just need to vent about what happened at work or do you want to write about 5 ways to close a business deal? There is a difference. Unless you title what happened at work "How to discourage gossipy coworkers" that would be better suited to a business blog.
In the next section I talk about the things you need to consider when building a profitable blog and those can put a light on whether you want to do this as a hobby or as a business.
Do you really want to start a profitable blog?
Here are some hard truths about building a profitable blog.
You need a clear defined niche
While it's true that you can have categories that can go together well like 'lifestyle, home decor and gardening' you might not get away with having different categories like 'beauty, entertainment, pets'. You want to define your reader and what they are looking for. Not just pick any topic that you want.
You'll need to write content consistently
This means you can't just write three posts this week and another one in six months. That does not a profitable blog make. You need to be adding content consistently on a weekly/bi weekly basis. At least once a month. And trust me, some weeks you will NOT want to write.
You'll need to invest on tools and resources
At the beginning costs are small, like for the domain name and hosting but later you will have to invest in other things like writers if you don't feel like writing on your topic anymore or tools like Ahrefs or Surfer SEO to help get more traffic to your site.
You'll need to wait 12-24 months before seeing any income
Sure, there are outliers, I've read articles on people being able to make money at month 4 or 5 but what's normal is that you will only see traffic start to stir after a while. Most articles are not indexed immediately or do not show on Google's results for a few months after you've published them. So you'll need another source of income during this time.
You'll need to remind yourself often of your "Why"
On the hard days, you won't care that you have to publish that blog post this week. It can be done later, right? Or even worry about a content strategy or learning more about SEO to get traffic. Those things are boring, why should you spend your free time doing them? That's why you need to define your reason for starting this business. It will give you strength and purpose to continue during the hard times. (Read: Why everyone keeps bugging you to find your "why").
You'll need to forge friendships with other bloggers
Join blogging groups and find a bounty of information that no course could give you, plus you can find bloggers in similar niches that might be able to mentor you. Later on you can pay it forward and mentor someone else. These relationships are valuable because blogging is such lonely work and you can start some profitable joint ventures with other bloggers.
All in all, you need to understand that this is a business and it will take energy, hard work and resilience.
Steps to setting up your blogging business
Here are 7 steps to setting up your blog ASAP
Find a niche
This is a tricky step where people get stuck for months or years. Here's the thing, you need to choose a niche, validate it and go for it. Thinking about it endlessly will not do anything and you will never find out if it works or not until you put that blog out there.
Tips on finding a niche. Choose:
Something you love or want to learn about
Something you can write about for 1-3 years
Something you have ample experience in
What problems you can solve
These tips are, of course, an overly simplified example of what to look for when searching for a niche. There are full courses on how to pick a niche, which is why people sometimes get paralized and can't take any steps forward.
Pick a niche! I chose online business because it was something I loved setting up and even though there are still a ton of things I need to learn, I knew I could help others with my experiences and limitations (Read more on my about page).
Validate your niche
I have tons of ideas on a regular basis, and I hate, hate, hate validating them because sometimes they are cool but not profitable and I have to let them go. And that is what I need, for my businesses to be profitable, otherwise what's the point?
Figure out who your competitors are
Once you have your niche picked out, you'll need to search online for your competitors. Some will be big names but others might be lesser names just getting started like you.
Mike in his course Stupid Simple SEO helps you find your competitors and later on helps you find article ideas with SEO so that you can write content that will bring in traffic.
Find blog post topic ideas with SEO
They say if you only have 20 or less topic ideas for your blog that you shouldn't build it at all because there is not enough content for your site to be successful. Again, Mike Futia's course is really helpful with this.
SEO is a tough subject but it's still one of the best ways to bring organic traffic to your blog, which eventually makes you some passive income.
Need more convincing about validating your business idea? Read > Why Idea Validation Is Important In Online Business.
Make a launch plan
This is an idea from the book "The Blog Startup" by Meera Kothand. She offers two types of launch plans but I like this one better. Here's what you need:
Minimum viable site (MVS)
You will need a bare bones site with some content to get your site noticed by Google.
Email marketing
You will need a lead magnet and an email provider that will let you put a form on your site so you start getting subscribers right from the start.
I know that seems vague but in the next few steps you'll see more concrete information on setting up the blog.
Prepare your content for your MVS
Branding (domain, logo, favicon, brand colors, social media handles, business email)
These things are all fun and exciting.But as I warned with the niche, they can take up a lot of time and paralyze you. You'll start asking for opinions on your logo from all the blogging groups and everyone will have a different opinion, getting you nowhere fast. Don't obsess about these. Make quick choices and remember you are not getting these things branded on your skin! You can change them later on.
Base pages
You'll need Home, About, Contact and the Blog page
Articles
You need at least 3 articles (1,000-2,000 words long)
Lead magnet for email marketing (optional)
A PDF with something valuable regarding your niche. Some examples. If it's a travel blog, a packing checklist, if it's a pet blog, 10 foods you should not give your dog.
Email marketing form
You'll make a form in your email provider dashboard and set it up to give the free PDF when the subscriber confirms.
Legal pages
You'll need at least a 'Privacy Policy' page but if you are using affiliate links in your blog you'll need a 'Disclaimer' with a paragraph for an affiliate disclaimer.
You can find generators for these documents through Google by writing "Privacy Policy generator" or something similar.
Site design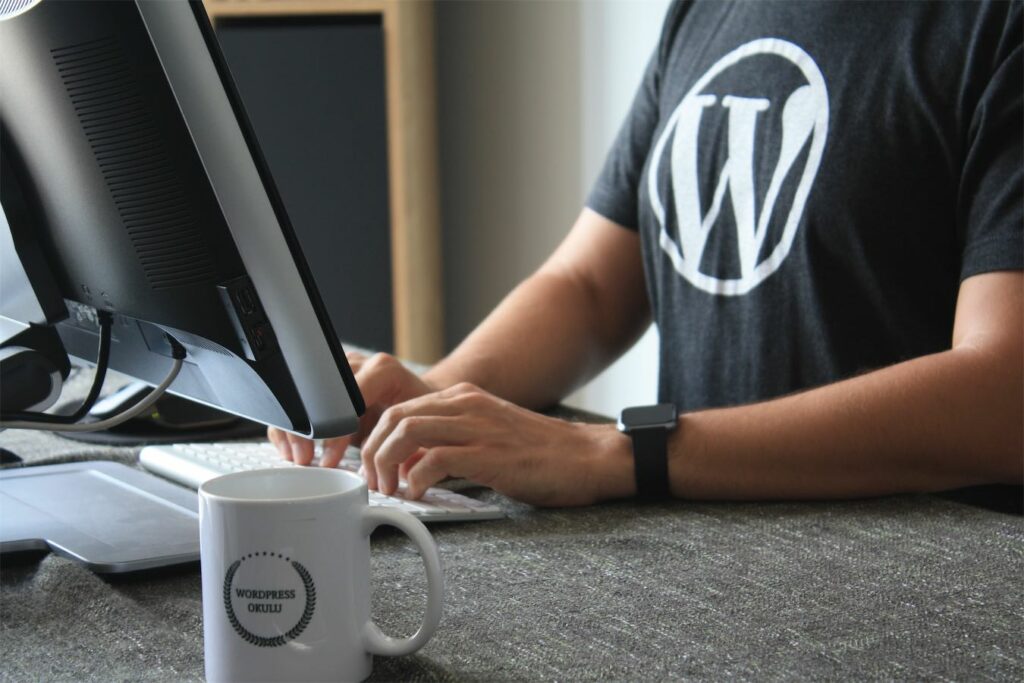 Work with WordPress in your computer
You don't have to buy hosting when you're just preparing your website for publication. You can learn and customize WordPress right in your computer by using a program called Local. I've put a couple of videos below that talk about Local and are part of my FREE WordPress 101 Mini Course.
Use starter templates
Most WordPress themes these days have something called starter themes/templates which are basically fully designed sites that you can install and use immediately, only customizing the colors, content and images. I show you how to install these in my FREE WordPress 101 Mini Course.
Hire a professional
Some people find WordPress confusing and don't want to bother with it. If that's you, then you might want to find a freelancer that can set up your blog for you and then all you have to do is write your blog posts and publish them. A virtual assistant can also help with setting up your blog or even publishing the articles after you have written them. It usually takes me 30-45 minutes to format a post for publishing on my site.
What is Local and what it can do for your WordPress journey
Setup WordPress in your computer with Local
Web hosting and business email
When your website is ready with design and all content included you are ready to buy web hosting. I won't go into a whole debate on web hosts, but for beginners I suggest Dreamhost. Choose the shared unlimited plan which lets you build more than one site. Trust me you'll want this later.
Dreamhost lets you create business emails and forwarders.


Launch your minimum viable site
Once your site is ready to go you'll want to migrate/move it to your Dreamhost server. You can do this by using a plugin named WP Vivid. There's a lesson on how to do this on my FREE WordPress 101 Mini Course.
What to do after you've launched
3-6 months
Keep writing content, start adding affiliate links, track your progress. Don't compare yourself to others. Study SEO.
6-12 months
More content writing, you might need to outsource. Try to add more lead magnets in relevant articles to find more subscribers. Give VALUE with these lead magnets. Go deeper into SEO.
Beyond
Evaluate where your blog is at. What articles are more popular?, how are subscribers coming along? You might need to put some lead magnets in your top 3-5 articles. What affiliates are working out for you?
Consider making digital products to sell. Keep evaluating every quarter and educate yourself about the blogging business.
Making mistakes
No matter how many courses you buy or how meticulously you follow the instructions to set up a successful blog, you will make mistakes. There's just too much information to know it all and do it "right the first time". You'll have to let go of this limiting belief and focus on getting content on that blog.
I confess I am one of those people that wants to get everything right. I bought a total of 6 courses to start this blog ranging from $47 to $1300. I've finished two and am doing the others slowly. Even though I already knew how to build a site (used to be a web developer). So this is just a limiting belief that is keeping us from starting our business (You need to be an expert to start a business). Read more about knowing it all in my article "Do You Need To Learn #Allofthethings In Order To Start An Online Business?".
Just make sure to learn from the mistakes and it'll be worth it.
Conclusion
When you publish your first blog, you're going to want to start another one, even if the first one hasn't taken off. I don't know what it is about the brainstorming and setting up a blog that is fascinating and you find you can't help yourself. Don't do this! It's shiny object syndrome and will hurt your efforts on your blog. Now if only I could take my own advice 🙁 .
Now go brainstorm and build that blog!