Want to create an ebook? Here's how
[Disclosure: this post may contain affiliate links, this means I get a commission if you decide to make a purchase through my links. This is at no cost to you. Please read my disclosure information for more details.]
When talking about ebooks the first thing that comes to my mind is my Kindle and all the lovely romance stories I have in there. But I also think of those beautifully designed PDF files that are sold on websites or through Clickbank.
What type of ebook are you creating?
Creating an Ebook for Amazon.com
This is the case when you want to submit your manuscript to Amazon.com for sale in their store. There are just three steps but they pack a lot of information. Probably the easiest will be the first one, sit down and write your manuscript. If you have ever sat down to write a book you'll understand why that whole sentence was a joke.
Write your manuscript.
The most often software used for creating a manuscript is Microsoft Office Word. But now we have Google docs and you can write your manuscript there and download it. The formats accepted are (Full list here) Microsoft Word (DOC/DOCX), Kindle Package Format (KPF) (using Kindle Create), EPUB and MOBI (this is being deprecated by Amazon).
Format the document for submission
This is not about the file format but the format of the book itself inside the document. While you can upload your Word document as is, you might not like the preview (Amazon suggests using the Kindle Previewer to make sure everything is in place). Some people format everything inside Word. Others use Kindle Create (by Amazon – can be tricky to use) or special software like Vellum (industry standard) and Atticus. In Atticus you import your Word document and then format it there adding chapter names and endnotes as needed. Atticus lets you configure both your ebook and print book and export them in their corresponding file formats. In Vellum you have to pay extra for the second option.
Submit for publication in KDP
Before submitting your book you need to have a few things ready. Having these things beforehand will make your book submission fairly easy. Then you have to wait for the book to be reviewed by the Amazon Team

Book title
Book description
Book keywords (7)
Book Categories (2)
Manuscript in one of the accepted file formats
Book cover in corresponding format (jpg for ebook, PDF for print)
Creating a PDF Ebook for selling in your own site
This type of ebook can be as simple as exporting your document as a PDF. I've bought several ebooks like these and they work, though they can be hard to read on the computer (I'd rather use my Kindle).
You can also use graphic design software like Canva or Adobe Illustrator to create your PDF just the way you like it. Using a template as a base can be incredibly useful because you don't have to start from scratch. Creative Market has a lot of really good options.
You can also hire someone on Fiverr to create your PDF ebook. Here is a screenshot of what a lady did for my book. I wasn't able to put the entire book there because it can get expensive depending on how many pages of text you have.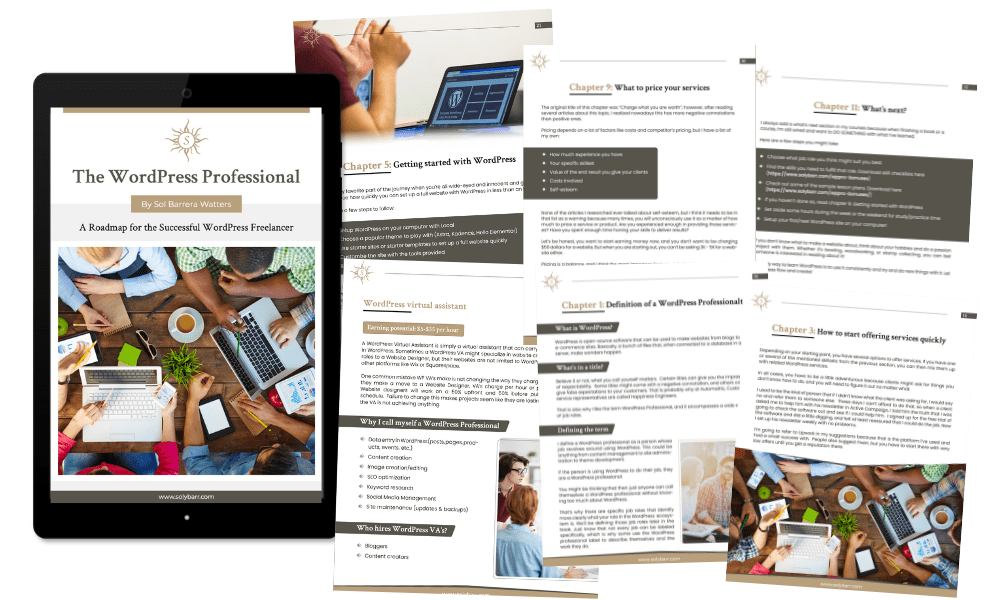 So here is what you do step by step
Gather all of your content and organize it in a Google Doc
This includes section titles and a table of content. Don't forget to write an "About the Author" page as well. Some put this right at the beginning. Use a spell check to make sure everything is spelled correctly. Run it through Grammarly too (It's free).
Find some free images on free sites like Unsplash or sites where they have public domain images.
You could also purchase the images at a place like Depositphotos. Some sellers on Fiverr will get the pictures from their subscriptions at stock photo sites.
Choose a design software
Canva is the one I recommend as it is very easy to use once you get the hang of it. It's drag and drop and the results are great. The lady from Fiverr gave me the source file for my PDF book and it was in Illustrator (I paid extra for that source file). Other options are Adobe inDesign or Affinity Publisher. These last two are specifically made for laying out book/magazine designs.
Find a base template
You can search Creative Market or Etsy for these types of templates. Canva itself has some templates but they don't have as many options as you might like. It's always safer to test out those free templates first. Of course you can do your designs from scratch if you are design savvy.
Download or export as PDF print quality (You'll find this option in Canva).
Open and read your PDF from start to finish to make sure no mistakes were made
Maybe share it with a close friend to have fresh eyes see the document. Sometimes we have viewed the same pages so many times we no longer see the mistakes that are glaringly obvious to others.
Where to sell your PDF ebook
Once you've got your PDF document ready, you can either use it as a lead magnet or sell it. Selling options are:
In your site with shopping cart software

Woocommerce for WordPress (free)
ThriveCart (paid)
SamCart (paid)

Gumroad
Shopify
SendOwl
Sellfy
PayHip
Blurb (they have their own formatting tool)
Summary
All joking aside, the most important thing you can do is first outline your book and then write it. The sooner you get that hard part over with, the sooner you can take on all the other steps. Without a manuscript your hands are tied. And you can always hire someone on Fiverr or Upwork to ghostwrite your manuscript. Just make sure they license it for commercial use and that all rights are yours so you are free to use it. I would also ask to make sure they know your name will be in the book as author and they won't be mentioned.
Making an ebook is an amazing experience and Google is always by your side helping and giving answers. Amazon's help documents can be a little dry and on the technical side but YouTube is also your friend and lots of authors have made how to videos for self publishing with Amazon and also Canva.
Just get that manuscript done!